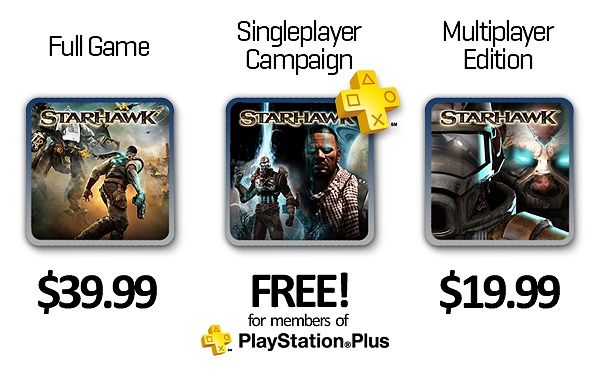 Rifters and Outcasts, it is indeed true. Straight from the mouth... er, keyboard of Dylan Jobe himself, Starhawk is indeed coming to PSN in three exciting new ways. As I said before there was a chance Starhawk could be getting a Multiplayer Edition that would give players the ability to play Starhawk's amazing multiplayer modes for a reduced price. This is confirmed for North America now, as the Starhawk Multiplayer Edition will be available to players for only $19.99. That's not the only good news though. PlayStation Plus members will be able to complete the experience by downloading the single player campaign for free! So anyone wanting the game can get it in its entirety for only $19.99 if they are a PlayStation Plus member. For those of you who aren't members a full version of the game will also be available for $39.99 on the PSN Store as well. So sing it with me now. You're once, twice, three times a rifter! Look for these starting September 25th on the PSN Store, and I'll see you on the frontier!
Wait, you mean that isn't all?
The PlayStation Blog post
seems to have someone else at the bottom... oh wait. New modes? That's right, the upcoming Starhawk 1.04 update will feature three all new gameplay modes for free, along with five new small maps! Assault, Deathmatch Arena, and Gatekeeper are making their Starhawk debut soon along with the Cypress Glade, Space Flotilla, Space Relay, Scourge Junction, and Scourge Breaker maps. Not to mention a truckload of tweaks and balance updates including, but not limited to, the addition of online public game Prospecter matches! Remember all these will be free to players with the full (PSN or disc) or Multiplayer Edition versions of Starhawk.
Dat Gatekeeper! Deathmatch Arena is something that is definitely missed from the game initially but I'm glad to see it is finally heading to this game. Then there's Assault that looks like it will be very popular for clan matches! These new modes are all welcomed additions to the game and I cannot wait to grind out some EXP while putting my Hawk piloting skills to the test at the same time.
This amazing blog post ends with a teaser image for a new Build & Battle structure that Mr. Jobe promises will be a great addition to an upcoming paid DLC for the game's single player campaign...