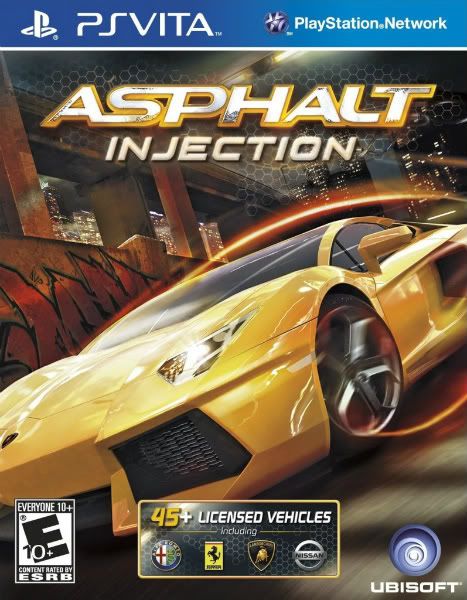 Asphalt Injection
Developer:
Gameloft

Publisher:
Ubisoft 

Platform:
Playstation Vita 

Genre:
Racing Simulation 

Rating:
Everyone 

Release Date:
February 15th, 2012

Donít you love having the rush of going 150 down a busy interstate and the smell of burning rubber? Rushing against other cars while pushing your Ferrari to its limits? Well if your like me, you donít have the luxury of owning a multitude of cars or the money to upgrade them. Asphalt injection is the next best thing.
Presentation
In this game you have the opportunity of running through a vast amount of countries and speedways through the game in 45 different licensed vehicles. Whether itís a quick Free Race or a push through Career Mode this game will have you clutching your PlayStation Vita as you race toward the finish line. This game is a racing simulation, but without all the technical jargon that most high-end simulators throw at you. 

Graphics
Although this game is a handheld title, this game has crisp graphics to an extent. During moments of play in the game, you can wreck other cars or your own and a small cinematic will play of your wreck. During this time you can see lots of pixilation of your vehicle and its surroundings. Other moments that the graphics could have been improved is when your racing; you can see other vehicles in the street that are just casual drivers you pass by, these vehicles donít look as well rendered as the vehicle you currently would be driving. This gives the game a cheap quality when you realize the comparison between the vehicles, but itís only something that is noticed momentarily. This game held its own graphically overall but wasnít up to par for this new handheld system. 

Sound/Music
The music in this title is what you would have come to expect in most racing games, fast paced music that goes with the theme of running around a city, trying to be the first one to the finish line. Donít get me wrong the music for this title was good music, but it wasnít anything that stood out. There were no vocals to the music; it was just something you would hear at a rave but a bit softer. In this day and age, games of this nature need to have different variety of music and not the same few songs playing over through each track.
Opposite of the music we do have fantastic sound effects of all the different roaring engines and screeching of tires, but even these sounds seem to be used repetitively. One thing stood out amongst all the sounds, and that was the voice over character. Ever now and then you would hear the voice of a woman who would voice in the cheesiest comments throughout the game. Things like ďI hope you have good insuranceĒ, or ďYou can at least give them a chanceĒ, and even ďIím glad Iím not driving that car.Ē This voice over seemed to be the comedic relief to all the tension when racing to the finish line, which in my opinion seemed like a good touch to the game. 

Gameplay
This game offers a variety of things when first started. Career mode is exactly what it sounds like and shows you everything this game has to offer in various different types of races. You also can develop and assortment of cars along the way in career mode. The way that career mode works is this, you as a driver must unlock the following tracks and cars by earning stars in each different race you participate in. You have the opportunity to earn 5 stars, if you get 3rd place you get 1 star, if you get 2nd you get 2, and if you get 1st you get 3. The other two stars come from objectives while racing, such as eliminate 2 or more cars, or have less than 2 wrecks, and so on and so forth. Each car and league unlocks at certain amounts of stars you have collected. This was a good system in my opinion to unlock things in career mode because after a certain point you have the option to redo races in other vehicles you have earned along the way. This in turn allows you the opportunity to earn more stars and unlock more vehicle, tracks, and leagues.
For those of you who arenít too tech savvy when it comes to cars, donít you worry. This game has you covered. In some games you have the option to mess with gear ratios and other knick-knacks that you could normally do in real life with cars, but this game simplifies this issue with just simple upgrades that can be purchased with money earned from races. Voila you car is upgraded with out the need of having to mess with options that donít need to be touched.
The types of races of available are: normal races, elimination, time attack, duel, under pressure, beatíem all, collector, drift, urban destruction, and cop chase. A normal race is just what it sounds like and you must place in 1st, 2nd, or 3rd to move on. Time attack is you alone on a track in which you must make your run in under a certain amount of time. In drift you must accumulate the required amount of points awarded for drifting in under a certain amount of time. In Duel itís just you and another car, no distractions, and first one to the finish line wins. In under pressure you must finish the race without wrecking more than 3 times, but all competition is out to make you wreck. In beatíem all you must eliminate the amount of competitors required and finish the race in order to progress. In collector you must collect a minimum amount of purple cash signs during a race in order to win. In urban destruction (which was my personal favorite) you must cause as much destruction in a certain amount of time and reach a certain goal. Last but not least we have the cop chase, in this specific type of match up you are given a new vehicle and must evade the cops at all costs. As you can clearly see the career mode showcases everything this game has to offer.
If you like your gaming experience short and to the point this game offers free race in which you can use all the things you have unlocked in career mode and play a race any way you want to set it up.
This title also offers a neat little feature called garage in which you can observe the beauties you have unlocked in your own personal virtual garage. You can even set you vehicles up on platforms and create your own mini show room. This is a cool feature because it actually incorporates the gyro in the Playstation Vita in your viewing of your vehicles.
The controls in this game can be either really awesome or kind of under responsive depending on the way you set your controls up. If your using the preset controls then your good to go, because in my experience in the game I had a great time controlling the vehicles and very little to no problems in responsiveness; if your using the motion controls then you may have some issues that I myself ran into. When using the motion controls with the Vita in this title, one can only hope that you can control you vehicle precisely, but because each vehicle has a different handling it takes some getting use to when you switch vehicles. I would tend to over correct or under correct when turning, and that would always lead to a wreck. So if you donít plan on using the motion controls then you will be solid in your venture.
This game also offers multiplayer both online and through ad-hoc. Seeing as though I was the only person I know with this game I tried playing the online multiplayer mode. It could be my location, or problems with servers, but ever time I tried to join a game there was never any rooms hosting games available. So for this game I have no review of the online play what so ever. 

Lasting Appeal
For those of you who squeeze every little bit out of each game they play, then this game might have a lot of lasting appeal to you. For those just running through a few races every now and then, this might be a title you put down after a month. Of course the potential of a long amount of lasting appeal is available, but this game does get repetitive with its limited amount of tracks and small selection of cars to choose from. 

Conclusion

For you die hard racing fans out there this title might be something to chew on till the next Playstation Vita racing title releases. This game is not something you drop everything else to play, but it is pretty entertaining on the go. It has a little bit of everything for racing enthusiast, but may leave gamers wishing there was a little more to this title.
Score:

6.0/10