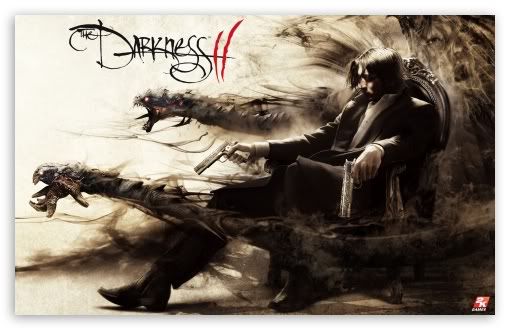 The Darkness II
Developer
: Digital Extremes
Publisher
: 2K Games
Platform
: PC
Genre
: First Person Shooter
Rating
: M
Release Date
: February 7, 2012
The Darkness games are based off of a comic from the mid 90s. When overpowered characters capable of deicide were all the rage. The first video game didn't see the light of day till the larval stage of this console generation and was only released for consoles. This time around a PC version was made available so those of us that use a mouse and keyboard can frag with our preferred implements of gaming.
Presentation
Once again you play the role of mafia don Jackie Estacado. Orphaned. Grew up as a hitman for the mob. The love of his life gunned down in front of him. You might as well go all the way and have him carry her around like that Aztec with the dead princess. I wouldn't mind spraying that on the hood of my car. With so many cliched plot hooks and the "Light vs darkness. Fight through hell. ORIGINAL STORY DO NOT STEAL" that has been done to death you'd expect the story to take a nosedive awfully fast but it doesn't. Even though characters with a mary sue power level are common there is a key factor that separates the good ones from a shallow self-insert escapist fantasy. The dialogue. If your characters crack one liners, drink, and complain about how much they hate their lives then it doesn't matter if you place them in the most over the top setting imaginable. Because a meaningful connection can be established through how the characters perceive their environment. The Darkness II does exactly that.
Graphics
Up close textures look too artificial, bland, and almost generic. Don't expect any high caliber eye candy like Battlefield 3 or The Witcher 2 as far as the rendering is concerned. The saving grace for the graphics is the color scheme and comic book aesthetic. Despite being all about darkness the colors in this game have a vivid splashiness to them. Such as the glow in your tentacle monster eyes or the dark red splotches of blood on the floor. When you couple the bold colors with the cel-shaded graphics you can irrefutably claim that a comic book experience was delivered. So next time someone says "graphics don't matter" you can bring them back to earth by telling them that the right choice of colors, character design, and proper rendering of objects creates a little thing called immersion.
Sound
The percussive feel of the weapons is mainly due to the sound. Though they may not be monstrous like the shotgun from Doom they do emit a mechanical tinny noise. Giving an audible feel of the bullets leaving the barrel. The same effort was not placed into the actual impact of the weapons. Some meaty exit wound noises would have added a bit more to the combative experience. An oversight of this nature is simple to overlook since there is so much going on when you are in the thick of it. Even more forgettable with your tentacles growling, biting, and dismembering. The soundtrack for the game is gripping. It mainly consists of an orchestral score with a larger focus on eerie violins and what I call "a female seraphic choir". The music does a bang up job of bringing out all of the underlying sentiments of the game.
Gameplay
If you liked the extra abilities that Bioshock and other similar shooters gave you then you will not be disappointed. Having four arms gives you more than just twice the options. After accumulating experience points from kills and eating hearts you can tailor Jackie to become the anti-hero you want him to be. If you want to be known for your fast hands and deadeye shooting you can invest in gun skills. Your tentacle strikes can be made even more devastating with damage upgrades and the ability to suspend enemies in the air briefly after slashing at them. Combine those skills with the Darkness powers skill tree and any enemy who survives your wrath will truly be terrified for the rest of his days after seeing you unleash a swarm of pestilential flies. Execution skills provide the player with a way out when things get really hairy. If you are running low on health, ammo, powers, or need a shield to shrug off some bullets you can grab the nearest enemy and get what you need from him with a gory kill animation.
Shooting is very accurate even at long ranges. Especially with a mouse. It's not because the hitboxes on enemies are generous. Most of the weapons (especially the 1911 pistol) have a concussive sensation that almost travel along the gamers hand when fired. The accurate and percussive shooting is in keeping with the comic book feel.
You would think that the eagle eye shooting and Darkness powers make for an easy playthrough right? The game throws varied waves of enemies at you despite them looking like carbon copies of each other. It also has a way of suppressing your use of darkness powers with light sources. Fortunately these sources can be destroyed with a swing of a tentacle or a well placed round but not all of them can be dispatched so easily. Each encounter forces the player to adapt to the situation while at the same time giving the player a mixed bag to draw from. After so long the combat can grow a little stale. Forcing the player to create their own form of amusement by mixing it up a bit more. Like using tentacles more often or maybe toying with enemies like a cat with a mouse.
Lasting Appeal
The new game plus feature is a little unexpected of an FPS. Giving you a chance to redo the game on an insane difficulty with some abilities to fall back and build upon. The multiplayer is more of a mini story mode with an online co-op. You choose between one of four different hitmen each with a unique darkness power. Although fun, after the first go or two it doesn't provide enough to keep players coming back for more.
Conclusion
The Darkness II accomplishes the feat of capturing the comic book through the medium of a video game. People who enjoy quick and bloody combat with a unique experience will be quite pleased with it. It's short life span and somewhat repetitive nature could be a turn off for some. Luckily an effort was made to offset this with the newgame+ mode and some multiplayer element. The fast and aggressive combat coupled with a rich comic book atmosphere makes this a fun little gem for gamers who want an FPS with a solid single player experience.
-Score-
8/10