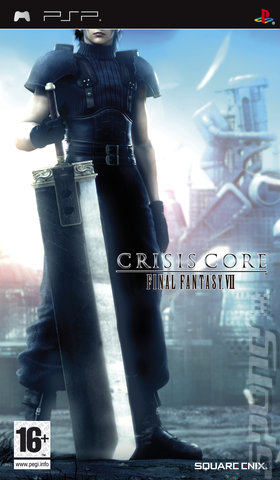 Final Fantasy: Crisis Core
Developers:
Square Enix
Publisher:
Square Enix
Platforms:
PSP
Genre:
Action RPG
Rating:
Teen
Release Date:
March 25, 2008
Final Fantasy 7 has had its share of spin offs, but now that it has hit the PSP, it has taken its gameplay in an entirely new direction. This game, being a prequel, now lets you dive deeper in the the already in-depth story line of Final Fantasy 7.
Presentation
Now taking on the role of Zack Fair, a member of the elite military group of SOLDIER, the story starts off with the character trying to move up the ranks. Unlike the prior games this game hones in on Zack's interaction of the plot and not on the entire grand scheme of things, which later builds on the story of its predecessor.
Upon start up of the game it opens up to the most beautifully rendered looking intro, some what similar to what you would find in the FF7 Advent Children movie. The game opens up with with bare minimum of options like any other Final Fantasy game which leads you in to directly playing it.
Sound/Music
Most of the music was composed by Takeharu Ishimoto along with a few various orchestrated tracks by Kazuhiko Toyama. Along side these new tracks was remixed music brought back from previous games done by Nobuo Uematsu. The new music is a lot harder and rougher than than its predecessors due to its newer rockish tonality. But like with any game coming along with this franchise Square Enix takes pride in its music and sound.
This games pays very much attention to every detail from its different sounds in the steps the character takes to the clanging of swords and shots from guns. The neat part of this game is now with each individual monster comes new sounds and "roars" that wasn't available in previous games of this franchise.
Graphics
This game being one of the most beautiful rendered game to hit the PSP goes to show that Square Enix is still one of the leaders/giants in computer generated cinematics. During cut scenes the game flawlessly sets the mood with great contrasts in color from dark earthy for grunge and mystery, brights for lightheartedness, and sepia tones for flashbacks. And the fact that the cut scenes and gameplay mesh so smoothly is what allows the gamer to never lose focus and continue playing for hours. Gameplay graphics can be seen as ultimately being smooth and flawless although during play the camera movement can get stuck on walls and other objects from time to time.
Gameplay
As far as gameplay is concerned the game plays similar to that of kingdom hearts or any action RPG for that matter. The list of commands is on the bottom right hand corner and is as simple as Attack, Magic, Items, and the New DMW. DMW is similar to a slot machine and only by a strike of luck will you be allowed to access summons and similar abilities such as what would be this games limit breaks which contain anything from Zack's own abilities to that of characters you meet along the way who are willing to lend the needed helping hand. So once you hit the DMW through luck you are then taken to another slot type screen which is ran pre-determinedly. When fighting there is the ability to go off and level grind but need to is nigh when the game is almost simply beaten by attacking the whole way through about 90% of the time.
The game is seems to be a lot more linear than most Final Fantasy's but the ability to go off and do your own thing is still there with shinra training modules and "hunts" that can be located at your local shinra headquarters. These tranings and hunts release a lot of possibilities from level grinding, rare items, and acquiring new summons for the "slot machine". But what sets this game apart from other final fantasy's is the fact that there is no over world that lends itself to a more linear base of play.
Lasting Appeal
This game is a lengthy play for a PSP game (a 30 plus hour adventure), but main play aside. There are tons of things that can be taken into account for replay value. The shira training modules for one release a lot of the hidden in game bonuses along with the "hunts", even some more difficult training for the veteran gamer such as defeating 1000 shira soldiers which can take up to an hour or two on its own.
After beating the game the gamer is now entitled to keeping his items and earned experience for a second go at the game which can be quite tempting for one who likes a challenge and a change in difficulty.
Conclusion
Crisis Core is a solid experience even though its fighting is very simple to the point that the game can be beaten by pressing x majority of the way through. From beautiful cinamatics, amazing sound, great story, and decent "side quests" this game pulls you in until your done leaving you satisfied till the very end. All in all the game does great justice to the franchise unlike other prequels and sequels in this day and age.
Score
8.5/10