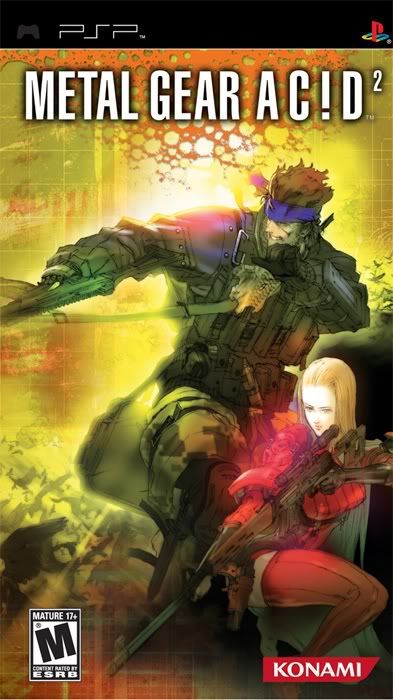 Metal Gear AC!D 2
Developer:
Kojima Productions
Publisher:
Konami
Platform:
PSP
Genre:
Tactics
Rating:
Mature
Release Date:
March 21st, 2006
The follow up to the eclectic Metal Gear Acid gives players many improvements as well as several paradigm breaking changes to the first games arsenal. With added (optional) 3D game play, more missions, more game play modes, and more cards, Metal Gear Acid 2 ups the ante on card based games.
Presentation
The player once again takes the role of a "Snake" from another universe. This time around Snake and his friends are en route to the US when they are captured by FBI agent Dalton. Snake with no memory of his past agrees to help Dalton in exchange for him and his friends release from government custody. His mission is to use his stealth abilities to infiltrate SaintLogic; an American company Dalton believes is illegally using children as test subjects.
The plot thickens of course when the CEO of SaintLogic threatens to use its newly developed weapon, Metal Gear, to force the U.S. government to release several prisoners from custody.
Snake, along with the help of Dalton, the mysterious hacker B.B, and the voluptuous Venus, must find the Lucinda file, stop Metal Gear, and unravel Snake's mysterious past.
Graphics
Where as Kojima games are known for gritty dark visuals, Metal Gear Acid 2 takes a different turn. Bright, almost neon colors and cell shaded style graphics set this title apart from others. The change can definitely be a shock to the system but when asked, the director Shinta Nojiri said this new style would help set this Snake apart and create the feeling of a totally new experience in this new universe of Metal Gear.
As mentioned before a major feature in this game is the optional 3D visuals. The "Solid Eye System" utilizes a stereoscopic 3D method which splits the image into two on the screen and a special "glasses" apparatus with a divider in the middle fits over the PSP, separating the two images. When your brain combines them the image appears in 3D. The 3D graphics look pretty good, and the cell shaded style with its thick black lines really helps as well. The only real problem with the 3D isn't the 3D itself but simply having to hold the device with glasses to your face the whole time. Also the 3D "glasses" were made prior to PSP2000 and 3000 models so they don't fit tight enough to the slimmer models, making it harder to take advantage of on a newer PSP.
A real treat however is the fact all of the unlocked movies are also rendered in 3D making this the first time many of the signature moments in the Metal Gear universe have made the appearance in 3D. Not to mention many of the movies feature recordings Japanese models (rumored to be favorites of Hideo Kojima) and all of them appear in 3D as well.
Sound/Music
Metal Gear Acid 2 uses mostly the same sound effects as its predecessor. This is not a bad thing however as the trademark sounds from the Metal Gear universe are a must for any Metal Gear title.
The new music in the games soundtrack however takes on an electronic/cyberpunk tone overall matching the game's science and technology heavy feel. Many times during the game I was a little surprised by this and although they aren't songs I find myself wanting to listen to by themselves, overall it adds to the gaming experience which is the desired effect in the end.
Gameplay
To anyone familiar with Metal Gear Acid, the excellent card-based battle system returns with a few improvements. Players will still build decks to use in combat working in mostly the same manor as before. Cards represent actions the player can make, and when chosen during your turn allows Snake to move, fight, sneak, or react to any situation. Turns are controlled by COST, which is added every time a card is used. COST counts down and determines the turn flow of the game for the player and enemies alike. And as players complete missions and progress through the story new cards become available allowing the player to increase his arsenal of cards.
New to the system this time around are Linked cards and card upgrades as well as doubling the amount of cards to choose from. Linked cards are cards that work in two ways. They can be used normally, as all other cards but have a second triggered effect. Each one of these cards "links to" a certain action and when triggered add extra effects such as enhanced accuracy, more damaging attacks, or extra actions at no cost.
Mentioned earlier a major improvement to the game is the increased number of cards as well as the ability to upgrade cards. Each card in the game can be upgraded from the card shop once, increasing a card's potency or changing it to something new entirely. And in a card based system such as Metal Gear Acid 2's, more cards means more options, and more options means more fun!
In Metal Gear Acid 2's new Arena mode the player can enter into a marathon battle against the Metal Gear universe's most notorious of villains. Importing a deck from your main game's save file provides your arsenal against such villains as Liquid Snake, The Boss, Revolver Ocelot, and The End. This mode is truly a great addition to the game, allowing the players to unlock cards in the main game while playing a straight action mode that is challenging and fun. More than once I found myself staring down Fortune's rail gun, or hiding from Vamp's combat knives. This mode is a blast and is a great addition to the game.
Another improvement is the great number of bonus missions that can be completed. After each story mission is completed you can select that stage again for anywhere from 1 to as many as 5 bonus missions and puzzles. This makes it easier to gain points to buy and upgrade cards as well as a challenging and pleasant detour from the main story. The puzzles are pleasantly challenging, forcing the player to figure out a solution from a set number of cards, emphasizing the use of improvisation and problem solving skills. Other bonus missions feature specific goals while replaying the mission such as sneaking or elimination. Overall these added missions increase the breadth of the game, rounding it out and ensuring many more hours of game play.
Multiplayer unfortunately remains wholly unchanged from Metal Gear Acid, which is the real area in which this game is lacking. It's a shame in my opinion because more multiplayer modes would have completed the impressive amount of improvements made to this game since its predecessor. Players who find themselves wanting to test their decks against opponents will soon be frustrated at the repetition due to this lack of multiplayer game modes and objectives.
Lasting Appeal
Thankfully, despite of lack of multiplayer improvements, Metal Gear Acid 2 has the capability to keep a player in the game for quite a while. With the great number of extra missions and modes, multitude of movie scenes to unlock, the added cards to collect, Metal Gear Acid 2 boasts quite a bit of replay value. Unlike Metal Gear Acid however the story is less engrossing so playing through it several times may not be on your list of things to do unless you wanted to catch certain cut scenes in 3D that you may have missed.
Conclusion
Although Metal Gear Acid 2 is still a game that falls into that "dreaded" card based category it has a lot to offer for any player looking for a game worth the money and the time. All in all Metal Gear Acid 2 should see quite a few hours rack up and is definitely a good game to have on hand for any PSP owner.
Score
8.5/10