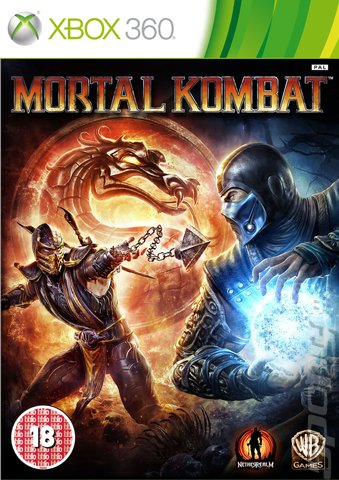 Mortal Kombat
Developer:
Netherrealm Studios
Publisher:
Warner Bros. Interactive Entertainment
Platform:
PS3, 360
Genre:
Fighting
Rating:
Mature
Release Date:
April 19th, 2011
For Fans of: Blood, No Sidestepping, Citizen Cage

One of the most celebrated fighting games returns with it's ninth installment in the series and a slew of new features, including, wait for it, the past. Can Mortal Kombat win back the fans it lost during it's venture into 3D fighting? Or has the fighting game market shifted once again making a series twenty years in the making obsolete?
-Presentation-

The game actually starts with what seems like the apocalypse as Shao Khan's Outworld begins to merge with our Earthworld. All the fighters, including Outworlds have perished, some in vain for the defence of Earthrealm has failed. The only hope that remains is Raiden, god of thunder and protector of Earthrealm. Unfortunately, he is being beaten to a pulp atop an enormous pyrimid by Shao Khan. In the last second before his inevitable demise Raiden utters a spell, a spell that sends his former self a premonition and gives Earthrealm a second chance, or rather, the eleventh chance. Now Raiden is attempting to change the events of the past in order to change the events that are sure to come.
For those readers who are just getting into the series at this point(and this game is good for that) the Mortal Kombat tournament was created to give realms a chance to defend themselves against Shao Khans invading Outworld. Shao Khan must win all of the ten Mortal Kombat tournaments which are held every 1000 years. He has been victorious in nine of them making this Earthrealms final chance. Progressing through the story mode, players will be given a chance to fight as each warrior excluding the outworld invaders. The story is actually pretty engaging which is a suprise for a tournament fighter but this is the Mortal Kombat mythos we're talking about here, a well established story still in the making.
-Graphics-
Mortal Kombat has come a far way in terms of visuals. The franchaise that was infamous for changing the color palette on sprites to create new characters has grown up to have arguably some of the best graphics for a fighting game. One of the prettiest things is the addition of the bruised up faces and how the clothing becomes torn as the fight progresses. Of course we saw this in MKvsDC but not nearly to this extent. Using the high definition to its full advantage, details just spill out of Mortal Kombat just like your opponents entrails.
-Sound/Music-
The background music varies quite a bit from some techno feeling songs to the grand orchestrated pieces, all of it feeling just right for the level you happen to be fighting on. The best touch in terms of sound I thought was the different sounding punches and kicks depending on the opponent your fighting, for example landing a punch on Johnny Cage sounds normal but on Cyrax in his robot form it sounds like your hitting metal. Voice acting is another element that MK is shining in, not much more to say about it then that but check it out, its good.
-Gameplay-
The first and most notable change is the shift from 3D fighting that we saw in games like Deception and more recently MKvsDC Universe, back to the classic 2D gameplay. This completely negates the annoying sidestep mechanic and brings the gameplay back to its roots. In keeping the general mechanics simple, first-time players will find an easier time getting a grasp on the controls and more importantly the combos, making Mortal Kombat 9 the easiest title to jump into the series on. Masters of this style of gameplay will likely pick up on the mechanics and dominate almost instantly. The gameplay, while at first feeling a bit like the first few mortal kombats, has been somewhat modernized to complete with todays games. Fatalities and their varients make a comeback here as well and are bloodier then ever quite often featuring the opponent in pieces. Featuring elements like "Breakers" which break the enemies combos, and a super meter that allows you to supercharge special attacks, or bank it all instead for a superpowered X-ray attack, Mortal Kombat is more than your standard fighter can handle.
On that note, The control is something that I think is worth mentioning. Since I personally don't own an arcade style fight stick, or have any plans of attaining one just yet (although the MK one is pretty), this is directed more toward the players who still rock the controller. The control doesn't take long to get used to, each of the face buttons controls a different limb. Although using the joystick might seem like a love-doll subsitute for the missing fightstick in your life, it doesn't suffice for pulling off some of the tricker combos. By trickier combos I mean the ones that require you to ultilize any of the upper spaces of the joystick or D-pad. It may be my noobiness (I mean it is) but everytime I get in a tight situation and have to pull off a combo to escape it, I botch the whole operation by slightly overshooting the back button by a degree causing me to jump backward. Why does UP have to be jump? Many a close match have been lost due to a control flaw you'd think they would've changed it to something else by now, however the game does include a fully customisable button layout for those of us who like tweaking things to suit the mood.
MK takes a different route with the combos, instead of having a giant string of buttons to mash at specific times during the attack like we see in games like the Soul Calibur series, MK takes the road less traveled and makes the longest combo five buttons long. Of course this does allow for the "button mashers" to win a few games, but anybody with a grasp of the RTrigger(Block) can eventually demolish these players. Since this is MK you can expect every character to have an array of gruesome special moves that can be pulled off pretty easily. Ultilizing and more importantly, recognizing these special moves will help you immensely although I still lose to Subzero and his freeze twenty years later. Those of us who are old enough to have played the first two games can remember thinking how simular the characters felt only differing in special moves, That is not the case anymore. Every character has a different set of combos and playstyles that can make them your worst nightmare, for example, Jax, is an up-close tank of a character whose grabs will decimate even the mighty Shao Khan if he was grabbable that is. While Reptile is a character that seems to preferr the ranged constantly backing up to keep distance.
-Lasting Appeal-
Perhaps where MK takes the greatest leap forward in the series is in the features that will keep you from ever ejecting the disc. The story mode alone can last you around nine hours depending on how long it takes you to figure out that back-forward-A (or X for you playstation players) is the trick to defeating Shao Khan. The story is gigantic for a fighting game and can be re-played for those of us who love showing our friends our mad skills on level one. It also has a separate set of random challenges called the tower. There you will kill enemies in new ways like firing lazers to prevent them from reaching you, or just a normal game with weird stipulations.
Where MK has always shined has been in the versus modes, and this title is no exception. With several new modes like Tag Team and my personal favorite, Test your Luck, which adds crazy game stipulations sometimes buffing you, or your opponent. MK can provide endless hours of fun and makes for a pretty epic party game. Seriously, play Test your Luck, seven reels, loser drinks, see how long it takes to get a disturbing the peace call, one of the funnest things ever.
Taking everything one step further, MK has joined the Online community, which does unfortunately require an online pass, but that's a different issue. While playing online your able to do a few different game modes then the regular versus, the first of which being the barren ranked matches where you can fight the same person over and over. The alternative option, and better by far, is joining a room of players and challenging someone to a fight. Now they can decline your challenge, which goes against the rules of Mortal Kombat but we can ignore that for now. One of the modes that you can join is a King of the Hill, this mode brings back the arcade style of loser passes and features a theater style way of watching the bouts while you wait for your shot at the reigning champ. Unfortunately this is kind of a slow mode for the game and generally most people will etheir a) send the champ hate messages while waiting to play him, or b) just leave the room and wait for people to challenge them.
Everyones favorite graveyard/execution grounds more commonly known as the Krypt returns and has more unlockables then ever. Whoever said Mortal Kombat has no sauce is one bad liar, it is full of the special sauce. The krypt is a safe of unlockable extras that you can buy using the money you earn from completing story and tower missions. MK has always been known for having a ridiculous amount of extras in the games and this easily doubles any krypt we've seen before. These extras are availible for viewing in the Necropolis which acts as your personal showroom for the things you've collected.
-Conclusion-
Mortal Kombat has been my favorite videogame series since I can remember because of the amount of story that is behind every character and the sheer carnage that takes place, especially during the fatalities. With a story mode twenty years in the making and a jump to the online scene finally, Mortal Kombat is worth every penny of its price tag, and thats not including the "Lord of the Rings" amount of extras included in the Krypt. The graphics and sound quality are a huge and welcome step up from the previous games as well. Even more welcome is the return to the 2D fighting and simple controls that made the older titles the top of the pack. Mortal Kombat (9) is a great title to pick up for your library if you can handle the gruesome fighting styles of the past. I recommend anyone of age picking up this game because there is something here for every fighting game fan, and if your not, this might be the title that finally converts you.
-Score-
9/10