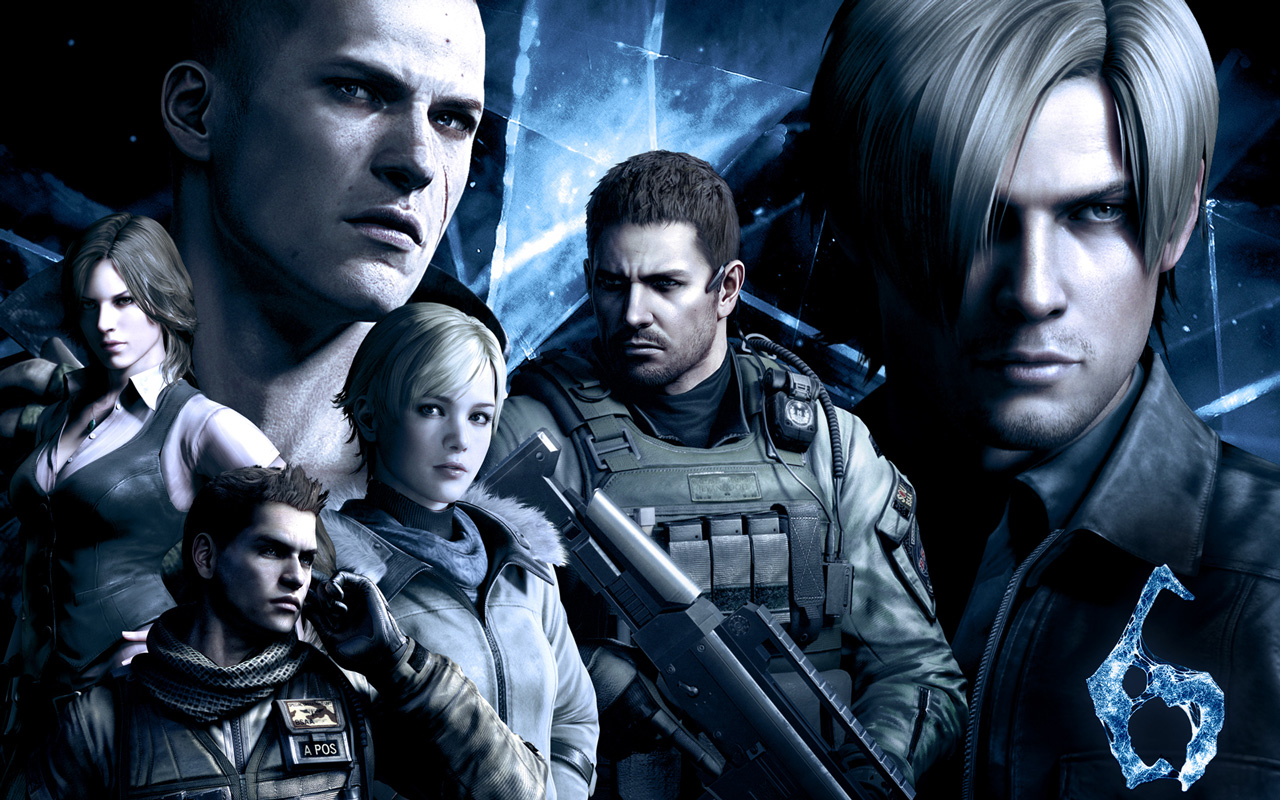 Developer:
Capcom
Publisher:
Capcom
Platform:
Xbox 360, PlayStation 3
Genre:
Survival Horror Action
Rating:
Mature
Release Date:
October 2, 2012
A new generation of the
Resident Evil
that brings some interesting changes. Set three years after the events in
Resident Evil 5
, Capcom gives us some old and new faces to battle the threat of bioterrorism. With "no hope left," does the game live up to expectations, or will fans of the series need to learn to adjust or move on?
Presentation
Bio-terrorism has become one of the worldís largest threats. Put a viral agent in the wrong hands, and it could spell doomsday. No one is safe, not even the President of the United States. Leon S. Kennedy watches in horror as the president Adam Benford is turned into a mindless, flesh eating zombie along with the majority of the population in the community of Tall Oaks. He and partner Helena Harper, a woman with mysterious motives, set out to discover the truth behind the attack. Across the world, Chris Redfield and his squad of BSAA agents are battling their own bio-terrorist problems in Edonia. Also in Edonia is Sherry Birkin, all grown up and looking for the son of now deceased villain Albert Wesker: Jake Muller. Jakeís genetics may be the key in ridding the world of the viral terror known as the C-Virus.
Graphics
Graphically the game is passable. Some of the water effects are absolutely stunning, and each level feels different from the next. Get used to seeing them, however, because youíll be going through just about every area with each play through. Death animations return beyond the character simply collapsing to the ground as they did in the fifth installment. Capcom has also given us a nice little visual treat in the HUDs. Chris, Jake, Leon, and Sherry each have different looking menu systems to work with. Despite some nice details, some parts of levels still look underdeveloped and in need of polish. Slabs of meat and food on the tables in Leonís early segment look blocky, something straight out of the early demo build. There are portions of the game that are simply too dark. If you have the PS3 copy, you may notice some screen tearing that is not present in the 360 edition.
The enemy designs have a nice variety. Gruesome zombies and horrible monsters with a variety of mutations named J'avo stand ready to pose a threat. Jíavo come in a variety of types, from a stretchy arm, flying beast, and a pincer headed fiend. Some have mutations strikingly similar to
Resident Evil 4
ís Jack Krauser, in which the foe with have a giant mutated arm which he uses as a shield and as a weapon. Our main characters look nice as well. Chris, Leon, and Sherry (obviously) have aged since their last gaming appearances. Each character gets a costume change as the progress through the levels, and these outfits suit their surroundings.
Sound/Music
While the earlier games of the series were marred by sub-par voice acting that often lent itself more to humor, this game has some of the best acting the series has seen thus far. Aside from a small handful of overly melodramatic scenes, the voice actors are spot on and make their characters sound believable. Across the board the
Resident Evil
franchise has had a wide selection of beautifully haunting musical arrangements. Sadly, this game just doesnít seem to have anything that stands out. Longtime fans of the series will be able to pick out some familiar tunes from previous games, but most of the new audio is rather forgettable.
Gameplay
Unlike the other games, you have a choice in who you wish to start the game with. If you want the most comprehensive youíd be best starting off with Jake, then Chris, and finally Leon. A secret chapter that rounds out the final details opens after completing these three. Jake and Chris each have campaigns that take place six months before Leonís, and helps flush out the background details. Also a first is that you may also now play as the partner. In order to get the feel aspect of the game, itís almost necessary to play as both characters.
The game is full steam ahead with action, whether youíre duel wielding pistols, getting into a melee battle with a horde of foes, or mowing JíAvo down in machine gun battles. Ammo is dropped or found fairly frequently. Yes, youíll probably run out if you never finish foes off with a melee, but running out of ammunition isnít the worst thing to happen to you. As mentioned, you can still take out most foes with your fists. Be certain to have your enemy in your sights, otherwise you could end up punching at nothing. If a foe is on the ground, you can't simply hope that looking at them will tell the game that THAT is the foe with the head in need of caving in with your boot. No, you have to wait until you actually see the prompt, otherwise you will simply perform a normal melee attack. Stamina bars exist for each character. If yours drops, simply take cover and itíll recover. Yes, cover is now back, though it is hardly necessary if you play on normal or vet as most enemies can either be dodge through counters (yes countering is included now too) or a full out dodge roll. A quick shot feature has been implemented as well, and thereís some use to it. Taking out dogs or other enemies with faster speeds is best done with the quick shot, providing the targeting system decides that is the best choice to fire upon. If the enemy is too far away, youíll aim at something closer and momentarily leave yourself open to attacks.
Unlike in previous games, you donít exactly need your partnerís assistance if you are downed. If your health is completely drained, youíll collapse to the ground. Rather than just writhe in agony until you get a boost back up, you can crawl away from foes and continue shooting at them. If they are destroyed or you can escape their clutches, youíll regain a bar of health and return to your feet. The game features cross play; allowing four players to join up depending on where they are at in the game. This sounds great in theory, but there are only a few very brief sections of the game where this applies. It feels like a wasted effort.
Two things the game could have done without are forced driving and running segments. Someone at Capcom thought it would be a great idea to force you to run against the camera in each and every scenario. These parts do nothing to create tension unless youíre not good at button mashing on time. These segments are fairly predictable and happen too frequently. Perhaps it is because the camera isnít focused on what the player needs to see, but then again the camera at times has a mind of its own and tries to direct your character at whim. Want exploration? Donít play
Resident Evil 6
. Levels are completely linear with hardly any backtracking at all. The only real exploration will come when you play as the partner character later and possibly have a different path to take.
While the game boasts a decent number of foes, the bosses are very underwhelming and easily some of the most boring the series has ever showcased. Thereís very little sense of accomplishment in bringing them down. Some are basically just long, drawn out battles that do nothing but drain your ammo.
Lasting Appeal
Resident Evil 6
does try to offer a good amount of content for extending replay value. As usual there are multiple difficulties to try your hand at, and this time around you have many different characters to play from. Agent Hunt and Mercenaries modes allow for many hours of zombie slaughtering fun whether you are a lone wolf or prefer a partner. Capcomís inclusion of ResidentEvil.net also opens up more avenues of playtime extension with unlockables, multiplayer contests, and more.
Conclusion
The gameplay certainly shows the dev teamís experimentation in taking the series in a new direction. Not to have any spoilers, but the plot, once boiled down, is really a simple case of someone being unable to handle rejection well, and the backlash of a woman scorned. Overall, the story falls flat and is the weakest of the main series, and you'll have to unlock the final character in order to really get the full backstory. The series has progressively lost its horror roots, something Capcom needs to fully acknowledge and stop trying to lure gamers in with catchphrases like "No Hope Left" or
Resident Evil 5
's "Fear You Can't Forget." Just because zombies are included does not mean the game will have any horror.
Many elements were ripped right from the previous games (launching a virus-laden missile from a cruiser, an enemy with rage induced passions for ruling the new world, cave diving and swimming away from giant water monsters, Krauser wanna-bes etc.) and even the enemies felt a bit recycled. Even Mercenaries feels pruned down with only a small amount of maps. Want more? Youíll have to wait (and pay) for them as DLC despite the fact that they are already on the disc. Had you not preordered, youíll be stuck with just three.
Resident Evil 4
at least offered four maps, so it definitely feels like Capcom was skimping.
While the game suffers a lot from some poorly implemented controls and one of the weakest stories in the main series, thereís a decent amount of replay value. ResidentEvil.net already is unlockables to keep players constantly playing in order to purchase. Sadly, it seems that the first set of alternate costumes is nothing more than palette swaps of the already available in-game costume 1 with no weapon change. Unsure of which platform to get the game on? In terms of the special editions however,
Resident Evil Anthology
on the PlayStation 3 offers a slightly better package in terms of extras than
Resident Evil Archives
on the Xbox. The 360 offers slightly better graphics and controls that feel a bit more natural, however, and if youíre simply wanting to spend money on a normal copy, that would be your best bet.
Score:
7.5/10