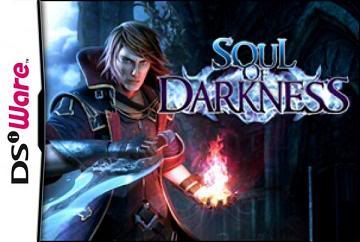 Soul of Darkness
Developer
: Gameloft
Publisher
: Gameloft
Platform
: Nintendo DSi/3DS (Dsi ware), Mobile Phones
Genre
: Adventure, Action
Rating
: Teen
Release Date
: July 5, 2010 (DSi)
Being primarily a developer for Mobile Gaming alike, Gameloft has proved itself to demonstrate a great library of download-able titles for the "On the Go" Gamers. Recently porting some of their high rated games to the DSi market, including Soul of Darkness, has been given praise for a detailed atmosphere and game play.
Presentation
For years, Darkness has plagued the world with it's rule among Vampires, and after experiencing the death of his parents, Kale has stepped forward their end dominance. With impressive acrobatics and a Spear capable of absorbing the souls of his enemies, Kale has become a force to be reckoned with. A few years have passed, he also saves the life of a young girl that due to her shock and fear, has suffered amnesia with only remembering Lydia as her name.
Despite her amnesia, the two have fallen in love and have since became inseparable, that is until sudden visions and nightmares began to surface Lydia. With only a vision of a castle being their only clue, Kale and Lydia journey together hoping it would lead to the answer of her nightmares.
Unfortunately, their arrival would be welcomed by the mastermind of it all, and his Undead army waiting for them.
Graphics
While it borrows some atmosphere from the successful Castlevania DS Titles, it doesn't come off entirely as a bad thing to judge. Granted, Kale does resemble a human like version of Alucard in some memorizing ways, but it shouldn't be a reason not to experience the nice touches it has done to the levels and background. However, sightseeing will be interrupted by enemies, sneaky traps and dozens of platforming trails so best be on Kale's toes to press on forward. Character artwork during Dialogue reminisces the first glance gamers might have experienced from Aria of Sorrow, and with the DSi Camera, the player is given the option to replace Character portraits to their own photo, a nice gimmick but it's better to leave it as is.
Sound
One of the surprising factors was how even though most DSi Ware titles have had a poor attempt to demonstrate something other than two repeated chip tunes, Soul of Darkness was an exception. Aside from the common grunting and explosion effects, it was greeted with some impressive soundtracks to slash the way through, however for such a title, it could have been given a more Gothic approach.
Gameplay
While the play controls once again resembles a lot of Castlevania, it still offers it's own unique ways as well, with Kale's Elemental Spear, his fire and Ice attributes offer some impressive combo attacks to defeat his foes. Although later on, elements play a role to solve puzzles to get further ahead, whether its lighting up torches or making ice platforms, it requires the player to put on their thinking cap as well. Throughout the game, defeating enemies allows the player to obtain Crystal Shards to upgrade their weapons to be stronger, offer up more combos, and enhance magic. While the purpose is mostly getting from Point A to B, some tricky platforming tasks may be required to accomplish as well, but the nice map feature ensures the player doesn't get lost either. Along the way, Kale is given the ability to Shapeshift, from entering narrow passages as a Beetle or submerging deep into water as a Jaw Biting Fish, it offers something new to the plate each time.
While the game can get difficult later on, the checkpoint feature doesn't completely force the player to start over, but it does make the challenge a little too easy once the pattern becomes more recognizable to overcome. Upon the end of certain levels, Kale is greeted with a boss battle that offers powerful attack patterns, so mindlessly rushing in won't get the player anywhere but to their own defeat.
Lasting Appeal
Soul of Darkness can offer up to Four to Six hours to complete at most, but it does offer an unlockable Hard Mode to retry those levels, incase something hidden was missed along the way. While the storyline attempted to rush it's way completely, it does give the player a slight feeling of suspense over the course in the story.
Conclusion
The important lesson here is, if a company was going to borrow elements of a game to make another, Gameloft successfully did so and with a 500 point label, it's surprising how much work can be placed in small data when done properly. In all honesty, It's really been a few years since such a game as surfaced, nevertheless, a great game to try out for such a bargain.
Score:
7.0/10