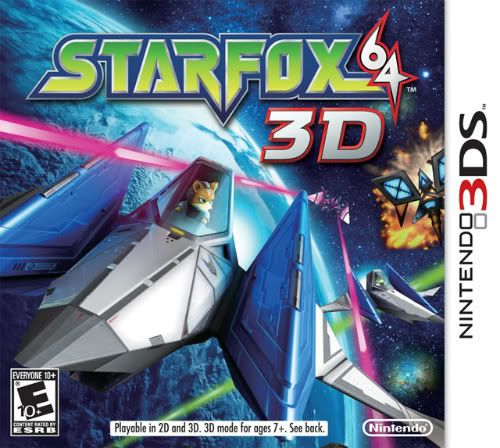 Star Fox 64 3D
Developer
: Nintendo EAD, Q-Games
Publisher
: Nintendo
Platform
: Nintendo 3DS
Genre
: Rail Shooter
Rating
: Everyone
Release Date
: September 9, 2011
Nintendo breathes new life into an old classic with Star Fox 64 3D. Like The Legend of Zelda: Ocarina of Time 3D before it, Star Fox 64 3D polishes off old features from the Nintendo 64 version, as well as introduce some new features exclusive to the Nintendo 3DS version. So how does everything stack up?
Presentation
Star Fox 64 3D's story is the same as you experienced it on the home console version from over a decade ago. For those who missed out on it, and for newcomers of the game, here's what's going on, all of which can also be found in the game's prologue.
The galaxy in which furry critters reside is the Lylat System. The planet, Corneria is the Lylat System's strongest source of power, having its own grand army. On Corneria, a brilliant scientist named Andross made extraordinary strides in his professional field of study. However, he soon became dangerous, having gone mad and nearly destroying the planet Corneria. In retaliation for his treason, General Pepper, of the Cornerian Army, banished Andross to the wasteland planet, Venom.
As time passed, General Pepper found strange activity coming from Venom. Suspicious that Andross would initiate war on the Lylat System, General Pepper dispatched a special mercenary unit called Star Fox to investigate the strange activity surrounding the planet. This Star Fox team is comprised of James McCloud, Peppy Hare, and Pigma Dengar. Soon after approaching Venom, the Star Fox team was ambushed by Andross's army. It was a set up. Pigma betrayed the Star Fox team to Andross, but only Peppy managed to escape, barely intact. James McCloud sacrificed himself to stop Andross, a tragic message Peppy told to James's son, Fox.
A few years had passed, and with it Andross's grip continued to tighten around the Lylat System. Major planets and star constellations have been overrun by enemy forces, including the Star Fox team's new rivals: the Star Wolf team. The galaxy has never been in such danger, until now.
A new Star Fox team has emerged to challenge the evil Andross. Fox McCloud takes lead of the team, along with Peppy Hare, Falco Lombardi, and Slippy Toad as his wingmen. Now it's up to Fox to cripple the enemy forces he faces and free the Lylat System from Andross's deadly schemes.
Graphics
Coming from the original game, you'll find that the game's graphics have been given a great improvement, not just in textures but in overall physics too. One great improvement that stood out was the water effects, and a good example can be found when playing through the planet, Zoness. The added use of water ripples, foam particles, and heavy rain really stood out from its N64 counterpart, and this is coming from a gamer that's played the N64 version since its debut and hundreds of times in between then and the 3DS rerelease.
Vehicle presentation is much more refined this time around, with added use of colors and contrast. The same can also be said for each of the characters in the game. The polygonal aspects of the N64 version have been nicely smoothed out this time around. You'll notice it when your teammates have conversations with you, as their faces appear on the lower screen of the 3DS.
Star Fox 64 3D is really one of the best looking titles in the 3DS's game library so far. Veterans of the original game will notice the difference in quality for sure.
In addition, I've noticed that Star Fox 64 3D is possibly my favorite game to play using the 3DS's 3D feature. It won't take long to adjust your depth perception to the 3D feature, of course battery life may be a problem, but it is an option to you after all. One problem I experienced is when objects in the environment appear to be further away than they really are, so I ended up smashing into said object and ended up taking damage and even sustaining a broken wing. Thankfully that's why the 3D feature is a toggle, so if you're feeling claustrophobic, turn it down. It didn't happen often though, and I really do recommend giving the game a try in 3D. Plus, there's no lag with the 3D feature, so the action of the game is further supported by it.
Sound/Music
Unlike Ocarina of Time 3D, Star Fox 64 3D has been given revised sound effects and music. Dialogue remains largely unchanged aside from the way it sounds with the game's new voice actors. Everyone's favorite one-liners sound just as quirky as they used to. "Fox, get this guy off me!", "Gee, I've been saved by Fox, how swell", are just some of the lines you'll remember from the original, including the infamous fan favorite: "Do a barrel roll!" The chemistry between the members of the Star Fox team is supported by this silly banter, so it's great to see that it hasn't lost its touch.
The music of Star Fox 64 3D is as appealing as it was in the past. It does an absolute service to your gameplay by augmenting the suspense and action you experience. The newly updated music sounds swell, and is best experienced when playing the game with a pair of headphones.
Gameplay
Firstly, there is a choice you can make on how to experience gameplay. You can either choose to play using the gyroscope sensors or the Nintendo 64 mode. The gyroscope mode allows you to use your body's movement to control the Arwing, or the ship that Fox flies. This feature turned out to be quite responsive, because you're not totally restricted to steering with body movement but also by using the control pad, so you can really do well a combination of both play styles. The developers also did a great job by integrating a calibration for the gyroscope. If at any time during gameplay the sensor seems off, you can tap one of the 3DS's buttons while holding the 3DS in a neutral spot to recalibrate the gyro sensors, a very useful feature. Of course I'd recommend playing in an area with space, or in a rotating chair. Nintendo 64 mode is plain and simple; you can play the game using the control pad as a primary way of controlling the Arwing with the gyroscope feature disabled.
After choosing your play style, you're free to tour the Lylat System as you wish. Players will always start at Corneria, and move from planet-to-planet, or star system, to finally reach Venom to confront Andross. How the player gets there depends on their actions. The game's difficulty is broken up into three parts: easy, medium, and hard. You'll know what difficulty you're playing through when you look at the map of the Lylat System. A blue line stretching from one planet to another indicates easy difficulty, yellow indicates medium, and red indicates hard. There are numerous ways you can go about moving through the Lylat System. Though moving to certain planets means fulfilling a requirement to enable you to move from one place to another. For example, in order to get to Sector Y from Corneria, while playing in Corneria you must fly through each stone arch in the lake to meet the "requirement", doing so will allow you to battle a different boss and enable to move on to Sector Y instead of Meteo (the Asteroid Field). Most planets will have this feature, and you'll know you've succeeded in finding it if you see at the end of a stage the words "Mission Accomplished", instead of "Mission Complete". Good luck finding them all.
Star Fox 64 3D is a rail shooter for the most part, very arcade-like which makes it quite fun. You'll fly through each stage taking down numerous enemy space crafts and robots, while increasing your score higher and higher. Your wingmen will provide assistance, for the most part. In All-Range mode, you'll be allowed to get off the rail system and fly freely, which usually involves a boss battle. In these moments of gameplay, you'll probably be annoyed with your wingmen needing help every 30-seconds, so be sure to help them out. If their shields deplete, they'll leave the stage for repairs and won't be back until you finish the following level.
Various items will be sprinkled through each stage for you to pick up. Bombs will take out large groups of enemies at once, but you can only carry nine at a time. The laser can be powered up to Twin Lasers, for moderate damage, and to Hyper Laser, for strongest damage output. If you break a wing, a wing repair pick up can be used to replace it. Silver rings replenish your Arwing's shields, gold rings do the same, but collecting three gold rings will increase your shield gauge's capacity, allowing you to take more damage. Occasionally, R.O.B 64, the robot piloting the Great Fox, will message you during gameplay. Tapping on the 3DS's bottom screen will answer R.O.B's call, and he'll drop you an item in the stage or, if playing in the Area 6 stage, will provide you with cover fire. Don't hesitate to answer his calls, they're useful.
Aside from flying the Arwing, you can also use the Landmaster, a battle tank, on two occasions, as well as the Blue Marine, a submarine, only if you manage to make it to the planet Aquas. Both provide good breaks to the standard way of playing the game, and each has their unique features independent to those of the Arwing.
The core method of gameplay is as simple to learn as it was on the N64 version of the game. I was worried I wouldn't play as well as I used to since the N64 controller was perfect for this game. Surprisingly, the 3DS's button layout works just fine. You can even modify the button layout to your liking, including adjusting the X and Y axis of the control pad. I'm very pleased to see this was included in the game.
Lasting Appeal
Remember there's plenty of ways to reach Venom, and all the alternate pathways to get there depend on the secret passages you'll have to find in each stage.
Star Fox 64 3D features a revised multiplayer from its N64 counterpart. New stages based on the single player mode have been integrated into the multiplayer mode. You can either play the CPU or take on three of your friends. Only one cartridge of the game is needed to play with your friends, but they must join in the game's lobby via Download Play. Multiplayer is limited to offline play, but it's always a treat to take on your friends. The 3DS's camera can be used to monitor you and your friend's facial expressions… something you can easily do by looking up at them from your 3DS. It lags, but it works for the most part. Multiplayer is similar to Mario Kart, in that you can fly through "?" boxes to pick up a random item. You have three play options: fight for highest amount of points, fight for a certain amount of time, or fight by process of elimination to be the last player standing.
Playing through each planet in the single player mode will add it to the Score Attack mode. Instead of playing through each planet in a row, you can choose which planet you want to play at any given time to get the highest score possible. Depending on how many enemy units you destroy, you'll get a higher score and can be awarded anything from a bronze, silver, or gold medal.
I've found that finishing the game by taking the Hard route will unlock a Sound Test under the options menu. All of the game's music can be heard with this feature.
Conclusion
Fourteen years have come and gone since the original game debuted on the Nintendo 64, and its appeal remains just as addictive as it ever has. The game's updated graphics is simply stunning compared to the original. Game play is action packed and easy to get into the swing of things from the start. Branching pathways in each level encourage you to find all the possible ways to visit each and every location in the Lylat System. The 3D feature works extremely well and greatly enhances your gameplay. Multiplayer is a fun addition, but you're limited to gathering around in one location to play together. It's not really a big deal, since the original game obviously relied on the enjoyment with your friends on the same couch. The score attack mode offers you additional hours of enjoyment. Star Fox 64 3D is a game no 3DS owner should be without. It's a great improvement over the original in many ways, but still manages to remain true to everything that was great about the original game. This is certainly one game I'd recommend to any 3DS owner. Pick it up.
Score:
9.5/10