RPG fans pay close attention! An absolute gem might be getting the HD re-release treatment just like Jet Set Radio, NiGHTS into DREAMS, and Sonic Adventure 2. *A NeoGAF user pointed out the trademark for Skies of Arcadia has been renewed fueling the speculation this game is headed for PSN and XBL Arcade with some shiny new graphics. If this is true it would be excellent news for RPG fans. Skies of Arcadia, like the other SEGA HD remakes, was orginially released for Dreamcast and later ported to Gamecube with a few extras. This game is considered one of the greatest RPGs ever created and (unfortunately) saw little love in its own time. Right now, a new copy would run you an arm and a leg if you aren't lucky enough to find a used copy in decent condition. Thankfully if this news is true those who missed out on this absolute classic will have another chance, this time with trophies/achievements!
Spoiler alert: This game is about sky pirates! Gyar!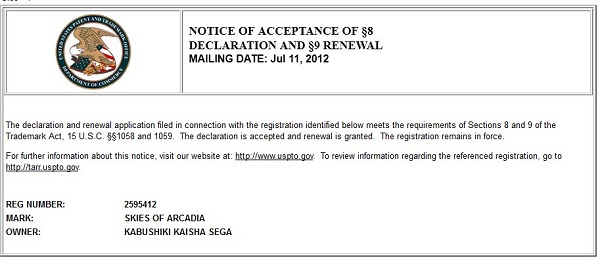 You can view the
NeoGAF post here.
Thanks to my boy Axicore for the tip!